Waterproof Protection Never Felt So Good
Waterproof, breathable, durable, and buttery-soft in feel, our Ultralight Jackets are designed to protect you from the elements and promise to never distract you from your experiences. Our design process was guided by rigorous field testing, fueled by a tenacious attention to detail and a relentless pursuit for perfection, and informed by 165 years of expertise. We are proud to offer three different jackets to outfit your every need, from afternoon hatches complete with unexpected downpours to rainy day city commutes. Discover the design features behind our Ultralight Rainwear.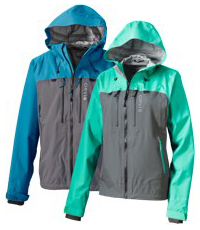 ULTRALIGHT Wading Jackets
Built for the demands of a four-season fly fisherman, and perfect for hiking and travel. The 3-layer 4.9-oz. stretch nylon twill shell moves with you through every cast, while offering best-in-class breathability, and field-tested durability.
Waterproof
Breathable
Stretch
Packable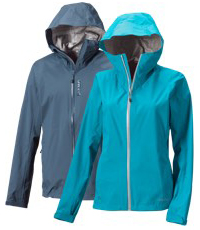 ULTRALIGHT Storm Jackets
Designed for everyday use. The one-quiver Storm takes you from the street to the stream and layers beautifully when you need it. The 2.5-layer 3.7-oz. stretch nylon twill features a raised dry touch finish on the inside to increase comfort and air flow.
Waterproof
Breathable
Stretch
Packable
ULTRALIGHT City Jackets - Available Soon!
Developed for commuting, urban adventures, and foul-weather outdoor hangs, the City is a 2-Layer 3.9 oz. recycled stretch polyester piece made with 100% recycled materials and biodegradable castor bean oil hardware.
Waterproof
Breathable
Stretch
Packable
Eco-friendly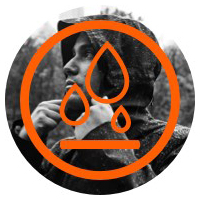 Waterproof
Waterproof ratings evaluate the length of time a jacket will keep you dry under varying conditions. A jacket rated at or above 10,000mm (the Storm) is designed to handle steady rain for an extended period of time and a jacket rated at 20,000mm (the Wading and the City) is designed for heavy, intense, dare-we-say relentless downpours.
There are three different ways to construct the waterproof fabric to balance waterproofness and durability and we offer one jacket in each category. For the 2-layer City, the membrane is bonded to the exterior fabric. In the 2.5-layer Storm, the waterproof technology is bonded to the exterior fabric, which is then coated with a protective surface. And, the most durable and protective 3-layer Wading Jacket is made by sandwiching the waterproof technology in between the exterior fabric and the inner fabric.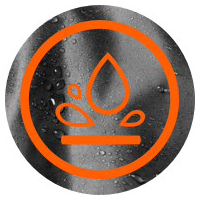 Durable Water Repellency (DWR) Treated
DWR causes rain to bead on the surface of your coat and roll away instead of soaking through. Shedding the rain from the jacket helps the piece maintain its lightweight feel while continuing to be breathable.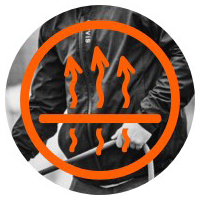 Breathability
Breathability is about the movement of moisture vapor through a material (despite the term, it is not about the movement of air), and it is achieved by bonding a semi-porous membrane to the fabric. The holes are large enough to allow water vapor (sweat) to escape, and small enough to keep water vapor (moisture from the atmosphere) to get through the jacket. All of our Ultralight Jackets meet standards for excellent breathability, with the Wading Jacket as the most breathable.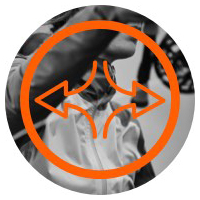 Supple & Stretchy
Outerwear should enhance, not restrict your experience, so comfort is a top priority. Say goodbye to crinkly, stiff rainwear that you only wear in the rain. The buttery-soft, pliable feel of our jackets transform a rain jacket into a versatile outerwear piece that you will reach for on blue-sky days. Mechanical stretch makes sure the jacket moves with you cast after cast, and the low weight makes it easy to fold into its own hood and pack away.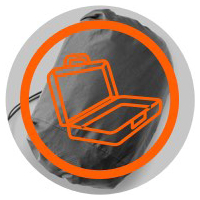 Lightweight & Packable
Designed for go-anywhere versatility, these shells are incredibly light in weight and made to be packed away when you want to shed a layer. Each jacket packs into its own adjustable hood for stowing in a daypack or duffel bag.
"A good rain jacket will keep you dry, a great one will make you forget you're even wearing it. We feel the Ultralight series does just that."
—Jim Kershaw, Senior Designer, Hunt & Fish
"With the Ultralight program we really wanted to focus on comfort. How do we create a waterproof jacket that doesn't feel like a jacket? How do we create something that's so comfortable that you forget you're wearing it? Those questions drove us to hyper focus on finding the perfect partner to develop a variety of waterproof fabric packages with optimal stretch, a supple hand, and the durability to stand up to the abuse of fly-fishing guides. The Ultralight series is the lightest weight and most breathable rainwear that Orvis offers focused on providing all day comfort without restricting your movement."

—Jim Kershaw, Senior Designer, Hunt & Fish
"The Ultralight Storm is my go-to adventure jacket—it's lightweight, packable, buttery soft and the stretch allows it move with me during all of my activities. I have worn it fishing, hiking, trail running, sailing and on my daily commute to work. What sets this jacket apart is the fabric, I have never had such a soft, stretchy and quiet rain jacket in my life."

—Natalie Cullum, Product Designer, Fish & Hunt
The Mind Behind the Design
When it comes to outdoor product design, Jim Kershaw is the triple threat: a problem solver, a competitive hard worker, and a passionate outdoorsman. Meet the man behind the Ultralight Rainwear collection.
SEE HOW WE DID IT
"I love the versatility of the Ultralight Jackets. They are rugged enough for you to beat them up—for hiking, fishing, traveling. But sleek and cool enough to wear to work, or walking down 5th Avenue. They are lightweight and breathable, so it doesn't feel like you are wearing a plastic bag, so on the spring days that are rainy but warm, you don't have too many layers. And the colors are awesome."

—Doug Lopez, New York City Store Manager